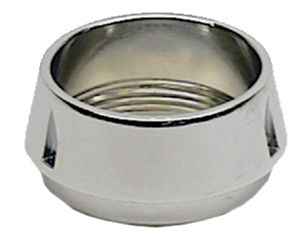 Ignition Bezel Nut
Applications: 67-68 Camaro, 67 Chevy II, 67 Chevelle, 65-66 Fullsize Chevy, 67-68 Firebird
Ignition Bezel Nut
Excellent thread definition
Quality chrome diecast. 
(Retail Note - threads fit all original and QUALITY replacement electrical ignition switches. There are numerous cheap switches with incorrect [smaller] thread size on the market.)
For over 30 years Classic Headquarters has been the world's premier manufacturer for high quality, technically correct restoration products 
Classic Headquarters, Inc. part# W-219

FREE shipping!