Gas Pedal Pad Stainless Trim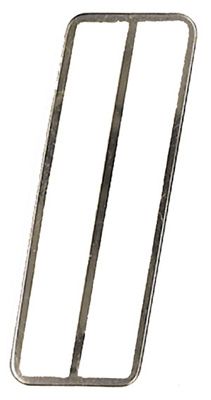 Gas Pedal Pad Stainless Trim
Applications: 68-72 Corvette, 

68-81 Camaro, 68-79 Nova, 68-77 Chevelle, 70-77 Monte Carlo, 71-76 Vega, 71-72 Chevy Truck, 68-81 Firebird, 69-73 Tempest/GTO, 69-73 Grand Prix, 71-74 Ventura, 74 GTO, 72-73 Full Size Pontiac, 73-74 Buick Apollo and 73-75 Omega

Gas Pedal Pad Stainless Polished Trim  
Correct gas pedal pad stainless polished trim
Trim will fit all applications although may not be original for the application

Nice addition to brighten up those plain black pedals!

Classic Headquarters part# W-132, GM Group #: 4.451, GM Part #: 3923611

You are purchasing a one (1) stainless polished trim (pedal not included)
See Maryland Corvette's store for the gas pad pedal!
FREE shipping!