Manual Brake Pad w/ Disc Brake Emblem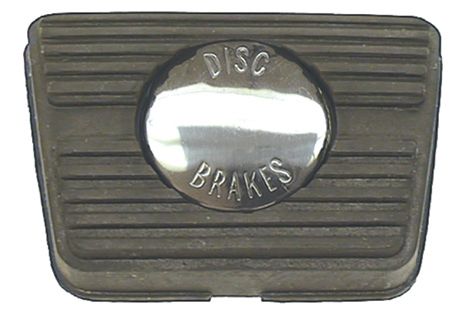 Manual Brake Pad w/ Disc Brake Emblem
Applications: 68-79 Corvette, 

67-81 Camaro, 64-72 Chevelle, 68-79 Nova, 67-68 Firebird, 70-81 Firebird, 64-72 Tempest/GTO, 71-74 Ventura, 74 GTO, 65-71 Grand Prix, 73-79 Buick Apollo and 73-75 Omega

Manual Brake Pad w/ Disc Brake Emblem OEM Quality Part C3  

Superb reproduction with "Disc Brakes" embossed correctly on stainless center disc insert

Shipped with protective film cover (not shown) over center insert
OE quality rubber unlike others offered elsewhere
Pedal pad will fit all applications although may not be original for the application
Nice addition to brighten up those plain black pedals
Show everyone you have disc brakes!

Classic Headquarters part# W-120, original GM Group #: 4.630 GM Part #: 3935721 

You are purchasing a one (1) pedal (stainless polished trim not included)
See Maryland Corvette's store for the stainless polished trim!
FREE shipping!